the setting,
My wife arranged the travel for our recent family vacation to Spain so that the best was saved for last, a visit to Barcelona. At least that was the theory, though in fact each place we visited - Lisbon, Tangier, Seville, Granada, and Madrid - had attractions and charms their own that made them not to be missed. Still, Barcelona with its art and architecture, its food and charm, and laid back lifestyle in a sea side setting on the Mediterranean certainly qualifies as a highlight. My wife enriched the experience even more by arranging tickets for us to attend the opera there.
One of the first things we learned was that Barcelona is in Catalonia, an autonomous, though not independent region of Spain. It occupies the northeast corner of Spain and is similar in shape to South Carolina, though less than half its size in square miles, but having more than twice its population, largely concentrated in Barcelona. The region has its own language, Catalan, in addition to Spanish, and there is currently a push by many in the province and in the Catalan parliament to secede from Spain due to a feeling that Catalans pay more in taxes than they receive in services from the central government. Not surprisingly, the central Spanish government in Madrid is opposing the breakaway. A new referendum appears likely in the coming months and Catalans seem to be struggling with this decision and how it might affect them.
One practical result for the opera goer in Barcelona is that, while the operas are performed in their native language, the supertitles above the stage are in Catalan, while the subtitles appearing on the backs of seats can be selected in Catalan, Spanish, or English. The name of the opera house itself is listed in Catalan as Gran Teatre del Liceu or in Spanish as Gran Teatro del Liceo ; the switching of ending e and o is a main distinguishing feature of the two languages. The opera house was built in the mid nineteenth century, but was decimated by a fire in 1994. It was renovated into the beautiful building and interior it is today, situated on La Rambla, a central street in old Barcelona and a favorite shopping stroll for locals and tourists alike.
In my travels in Europe in the last 10-15 years I have developed the impression that opera is more basic or central to cultural life there. The opera house seems to be a natural part of the landscape for a town of any size. My impression of the audience in Barcelona was that they were younger on average than I most often see in the US and somewhat less formal, though there were still lots of coats and ties and evening gowns in the audience. During the intermission, the hallways were lined with attendees eating baguette sandwiches of Iberian ham and cheese with their beverage of choice, quite often Cava. The theater was close to full seating, and the audience responded enthusiastically to the performance. There are two choices for taxis after the performance. Hail one on the same side of La Rambla as the theater and have the taxi take you on a long ride to get back to your hotel, or try in vain for the next half hour or so to get an empty taxi on the opposite side of the street headed in the direction of the hotels. Your choice. (Photos by author; immediately below is a gallery you can scroll by clicking)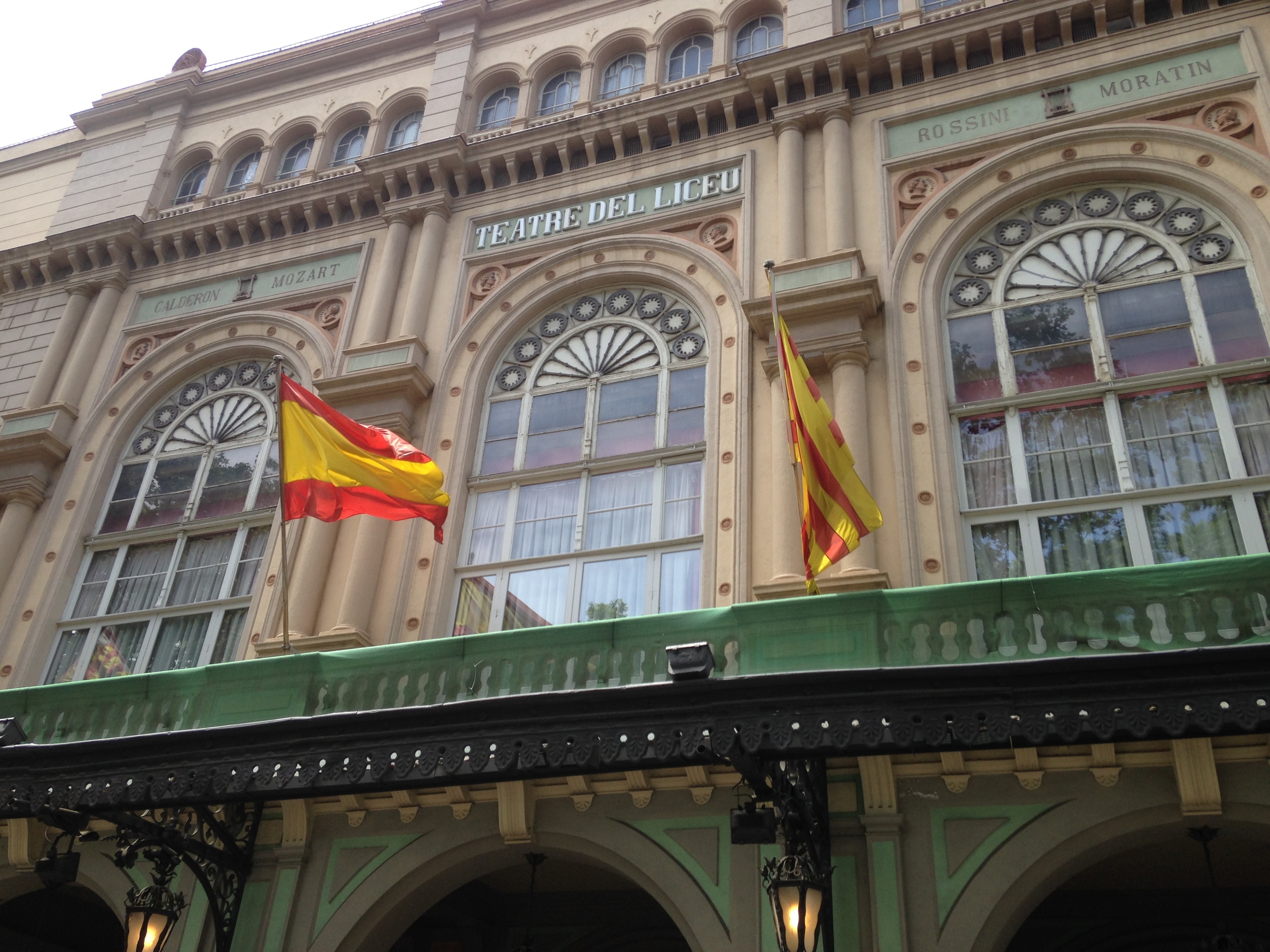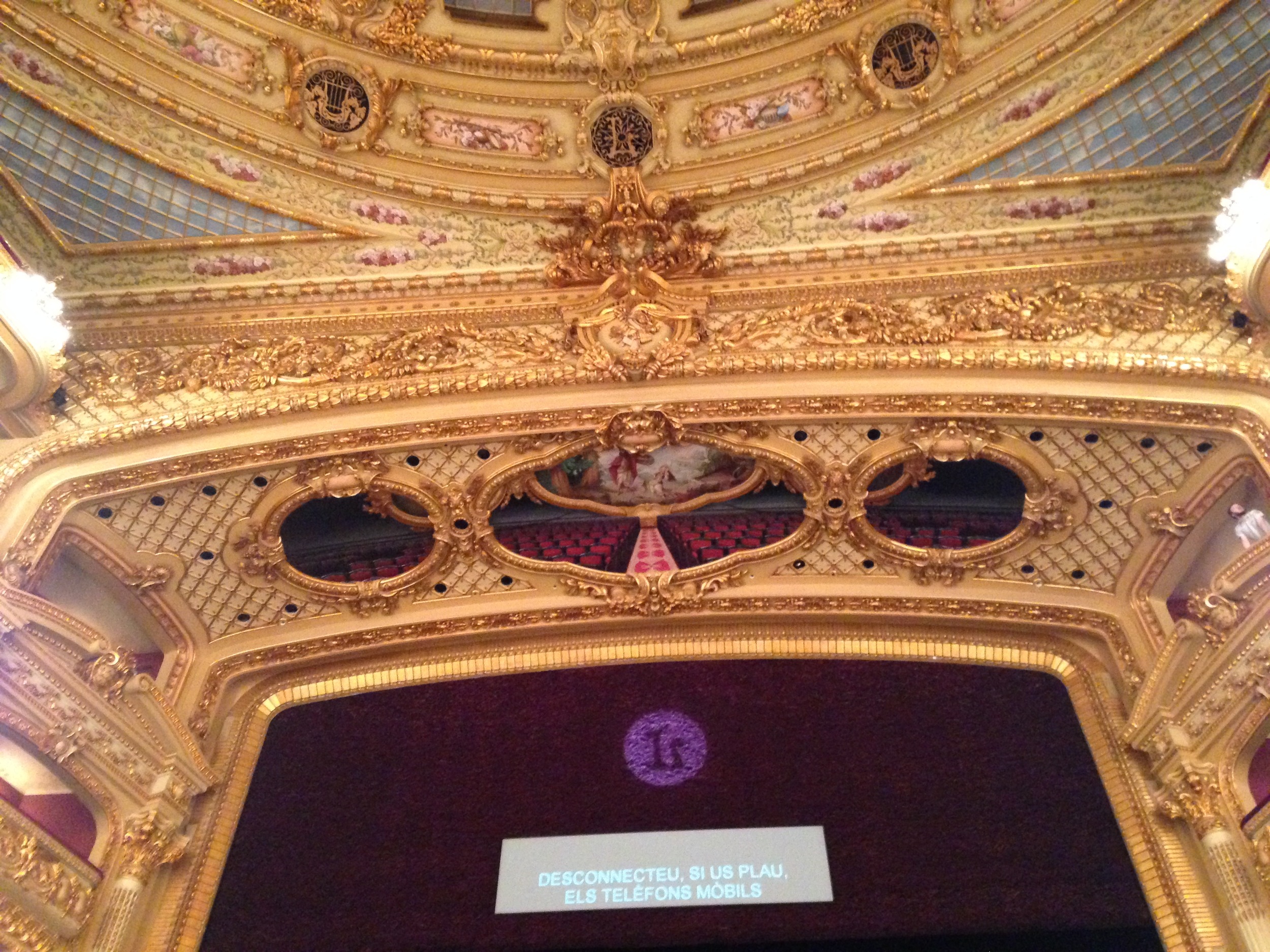 the opera,
One surprise for us was that, even though American opera star Joyce DiDonato was billed as the star performer, in fact, the lead roles were rotated among the performances by two sets of singers. The disappointment was that we did not get to see Ms. DiDonato; I failed to follow my own admonition to readers to check carefully the performers listed for the day you wish to attend, though in fairness to myself, I had assumed that a star of Ms. DiDonato's fame would not be rotated. The upside was that we got to hear an outstanding mezzo soprano, Silvia Tro Santafe, instead; she sang beautifully and her acting was spot on. Perhaps in Europe her fame is equal to Ms. DiDonato's?
The opera we attended was Vicenzo Bellini's I Capuleti e i Montecchi. This is his and librettist Felice Romani's version of Romeo and Juliet. It seems to have been a bit of a star-crossed opera. The deadline for the commission was short. Romani modified a libretto intended for another opera and Bellini used much music he had composed for a failed opera for this one, though the appropriated text and music were greatly re-worked. Yet, the opera seems to be less often performed than I think justified by the beautiful music; perhaps it suffers from competition with Gounod's Romeo and Juliet. They did not use Shakespeare's play as its basis but used original sources, so that the enmity in this version is not just between families, but between two political parties, the Guelphs and the Ghiberllines. Politics in those days was to the death. I will not comment on the direction our own are headed.
Some of the details are different, but the basics of the story remain the same. A boy and a girl from opposing groups fall in love, and a sympathetic figure intervenes with a potion that causes a death like sleep and a plan for them to escape together; confusion intervenes and leads to both the boy and girl offing themselves to always be with the other. There was one little wrinkle in this Romeo and Juliet that caused me difficulty. Romeo was played by a mezzo soprano. Here is what the program stated, "This is one of Bellini's earlier operas and it has more in common with Rossini-style bel canto than romantic opera, the genre in which he excelled. Thus a mezzo soprano is given the role of Romeo and the opera comprises an uninterrupted succession of recitative and arias that is still in the bel canto tradition." Okay, who am I to argue with their dramaturg. I am confused, however, in calling this an early Bellini opera and with the implication that tenors don't sing bel canto. Nonetheless, this is the way the opera is typically presented and so called "pants" roles are not all that uncommon in opera. I tried to accept Ms. Santafe's Romeo as a guy. I really did. However, for me she did not sound like a guy and she did not look like a guy, though I grant her acting movements portrayed masculinity quite effectively. As the evening wore on, her love for Guiietta became convincing and the question of gender identity faded into the background.
Overall, I thought the singers were quite good. Giulietta was portrayed by soprano Ekaterina Siurina, who has a pretty voice and sang well, though sometimes she seemed strained to hit the more powerful notes and her pleasure at having successfully navigated some of the more difficult passages was palpable. The guys were adequate but, as a fan, none stood out to me. The orchestra played well, but the sound seemed a little thin. I would like to hear the Met orchestra give the score a try.
My feelings about the set and staging ranged from this is clever and creative in an artsy way to this is has moved into absurdity. The set was minimalist and reasonably effective for some scenes, baffling for others such as having everyone walking up and down what seemed to be high school gym bleacher seats while face offs took place. Most unnerving was a scene where Giulietta, to exhibit how distraught she was I suppose, climbed up upon a lavatory attached only to a wall; she then stood up and appeared for several minutes to be trying to scale the wall as she moved around on the lavatory and sang her aria. Great aria, but one slip and we could have been dealing with a real tragedy.
Despite my critical comments, this evening spent at the Liceu/Liceu was great fun. I only wish I could have gone back the next night to see whether Joyce DiDonato could have made me believe she was a guy.